The Challenge
Manage the symptoms and stress for members with serious illness at home
Providing the right level of support for members with a serious illness requires specialized palliative expertise and focus on the whole person, which includes addressing social determinants of health (SDoH) and providing support for caregivers. A study has shown that over 50% of members requiring palliative care do not have access to services to help manage their conditions.1
Earlier identification of and engagement, with members who could benefit from palliative support ensures holistic care plans are established based on individual goals and values, avoids unwanted non-beneficial and costly medical treatment, supports existing primary care providers, and helps ensure the timely transition to hospice.
An independent peer-reviewed study conducted by the Journal of Palliative Medicine, evaluated the impact of our Home-Based Palliative Support model.
Returns up to a 3:1 ROI4
33% reduction in hospitalizations1
38% reduction in ICU admissions1
35.5 day increase in median length of hospice1
98% member satisfaction 3
Program Results
Up to
0
Reduction in Total Medical Costs3
0
Reduction in ICU Admissions3
Our Approach
Our Home-Based Palliative Support solution leverages a population health approach, blending compassionate care support with technology to uncover, address, and monitor many of the unmet medical and social needs of seriously ill members.
The Home-Based Palliative Support solution will:
Provide predictive analytics to identify those who could benefit from supportive care for serious illness earlier, offsetting the need for emergency care or preventable hospitalizations sooner.
Leverage evidence-based protocols that combine in-home and telehealth visits to continually assess and address each member's needs.
Develop and manage a regional network of specially trained palliative nurses and social workers supported by a highly systemized clinical program and web-based platform.
Engage and support members and caregivers to align healthcare decisions with their personalized goals and values.
Coordinate timely interventions with existing care delivery systems and providers.
Provide condition-specific support, home safety education, advance care planning, and caregiver and community support.
Drive improvements in quality, utilization, and for payor, member and family.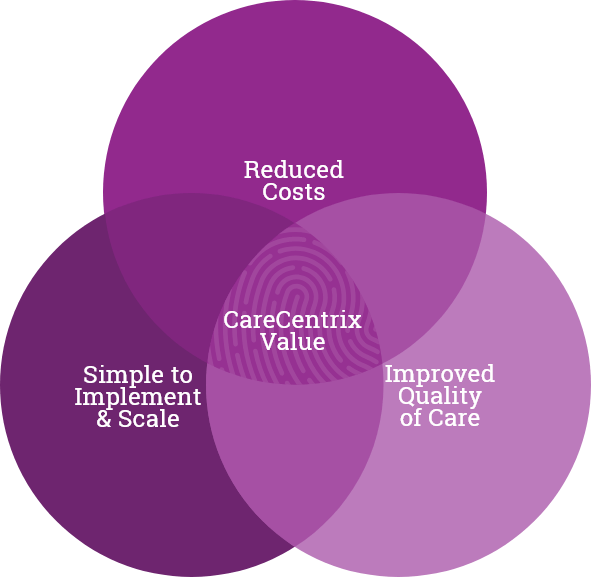 The CareCentrix Value
Our Home-Based Palliative Support solution is designed to easily implement, scale and integrate into existing care delivery systems. We proactively identify, engage and support members and caregivers to remain independent in their homes and make health care decisions aligned with their goals and values.
Our capabilities support metrics tied directly to CMS Star ratings including quality of care, member and caregiver satisfaction, post-hospital medication reconciliation and utilization.